It has been exactly one year since we got
engaged
. I mentioned it on the blog, but I never actually shared the story. So here goes!
From my point of view:
I always thought I would have seen it coming. That I would have known from the get go that "today is the day he is going to propose". We had been talking about getting married for months, we had gone ring shopping and I had plotted out all the proposal possibilities in my mind (my birthday, when we go to Europe, the next time we go to see my family etc.). He went with none of the options I had thought of and as it turns out, I was totally taken by surprise.
It was Monday, May 10th (the day after my birthday). On my way home from work, I was thinking, "Ok, Christoph is at work tonight. Maybe I'll watch The Bachelor, maybe I'll organize my envelopes by size and color. I guess I'll have scrambled eggs and toast for dinner. I really need to go to the store." Sounds like an exciting night to me.
I got home and checked the mail. It was empty except for a small bouquet of flowers and a card (
this card
). The card said there was one last birthday gift for me upstairs. I thought to myself, "how sweet! Christoph must have put these flowers in the mailbox before he went to work." I had no idea what the 'gift upstairs' was because he was supposed to be at work.
I walked upstairs and opened to door. There were rose petals all down the hallway and to my right and strait ahead there were bouquets of flowers with pictures of Christoph and I. The house smelled like a rose garden, there was soft romantic music playing. Ginger came running to greet me. I stood there frozen, completely dumbfounded with the front door wide open.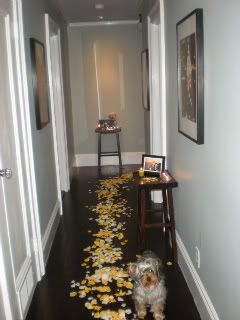 Ginger thinking it was time to go to the park went running down the stairs. I snapped out of my haze and took off after her. Running down four flights of stairs. I caught her at the bottom and walked her back up to our floor, went inside and closed the door. I walked towards the back of the apartment. Everywhere I looked, there were flowers and candles. I found Christoph standing in the living room all dressed up. I was so confused all I could say was "you're supposed to be at work". He told me he didn't have to work that evening and then he led me out on the balcony and proposed.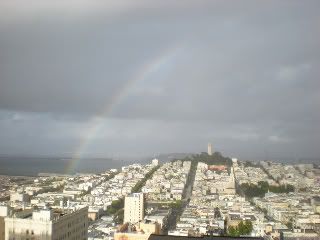 I was crying, he was teary and I think I said yes. I meant to say yes, but in the moment of it all I think I just kissed him. But the answer was yes. The weather that day had been quite overcast and within moment of the proposal, the sky opened and a beautiful rainbow could be seen all the way across the sky. It was surreal.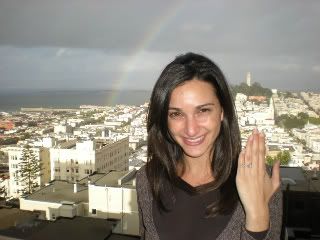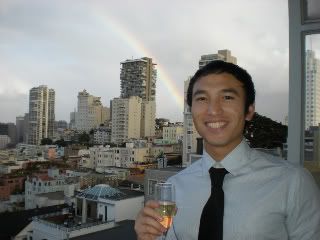 Sure enough, he had the whole proposal planned for months. We later went to dinner in the neighborhood at
Venticello Ristorante
.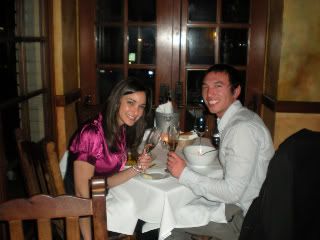 It was amazing. I'm still in awe. We're engaged!