A few weeks back I was scheming up a list of places that Christoph might be taking me for my
surprise birthday get-a-way
. Do I know him, or do I know him……..the last possible place I listed was where we went:
Safari West
!
Safari West
is a wild animal sanctuary in the middle of wine country where you can stay the night!!!! But, before we got to Safari West we made a few stops. Rather than go into great detail I thought I would give you a quick recap with a fun picture mosaic. So here is what we did for my birthday:
I dressed in my neon birthday brights. We left the city fog and headed for wine country. Breakfast stop at
Fremont Diner
(the biscuits, omg). I snuggled up with Rocky, the winery dog at
Zahtila Vineyards
. We stopped by
Spa Solage
. Soaked in the pool and did a mud bath. We stayed at Safari West in a luxury safari tent. Made our own happy hour with wine and snacks we'd picked up earlier in the day. Dined on BBQ. Enjoyed the animals. Found a bird and feather that matched my shirt. Snuggled with my lover. Rode on the top of a jeep (had to duck from tree branches). Definitely the beast seat of all. Loved learning about and seeing many, many, many, many wild animals. It was baby season, saw baby giraffes, bison and wildebeest. Took lots of giraffe pictures including…………THIS ONE: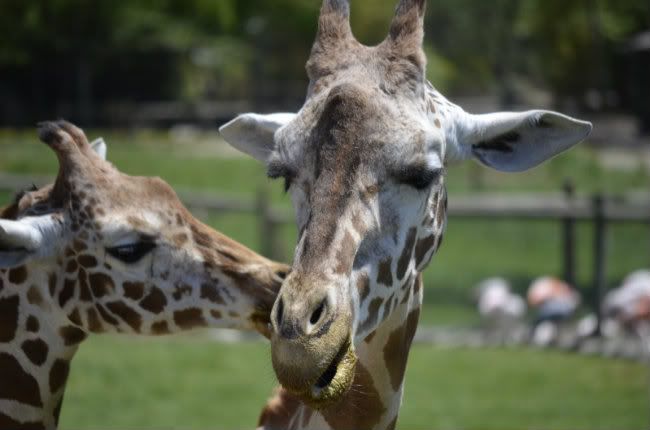 <3 This picture blows me away and I can't believe that I captured this adorable giraffe kiss moment.
Epic, epic birthday indeed.
Photo collage made using THIS site