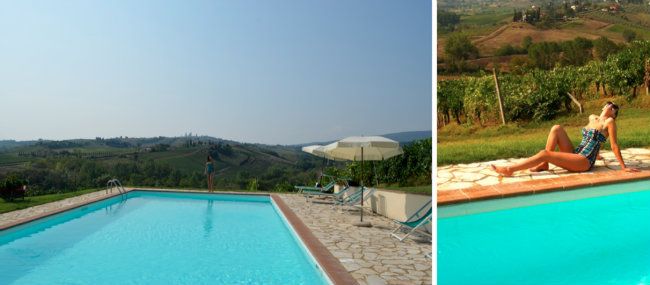 Sometimes the place you stay can make or break a vacation. Case in point – the first time Christoph and me traveled together internationally we learned that air conditioning is for me, a necessary - not compromise. In my defense we were in Costa Rica, it was HOT and our windows didn't have screens and we had to keep them closed. Sorry, dengue fever and malaria are low on my souvenir list.
Since then, we've traveled the globe and we've stayed in some amazing locations. Most of the places we stayed for our trip to Italy were booked through Airbnb and we had THE BEST experience!
In the Chianti Region we stayed in this dream setting on a vineyard. We were greeted by the host with a bottle of wine made from the owner's grapes. The house was situated atop a small hill surrounded by sprawling vineyards – everywhere you looked was another gorgeous view. Obviously from the pictures you can see that we made good use of the pool. This place is an absolute gem and I hope to visit again in the future.
We had a very pleasant stay in Sabrina's family B and B. The location was outside of the walls of Lucca (a short 10 minute walk). We had a car and parking was very easy. Our room was clean, the Internet connection was strong and the breakfast was simple. We thoroughly enjoyed our stay.
We had a lovely stay in Florence! Marta greeted us with a bottle of wine and had the fridge stocked with fresh milk and orange juice. The apartment was wonderful (clean, functional and a great location). Once you're in the heart of Florence everything is very walk-able! We loved it.
If you're traveling to Italy….or anywhere I would highly recommend AirBnb!