After working on these fun
striped painted paper vases
last week, it got me thinking about some other ways to turn computer paper into a pretty cover for recycled glass jars to then be used as vases. I decided to do something a bit more feminine and painted abstract peonies!
I love that these are perfectly imperfect. No real rhyme or reason, just a few simple strokes of paint. I was also thinking that these vases filled with flowers would make for a perfect little gift for a dear friend who became a first time Mom just this past week!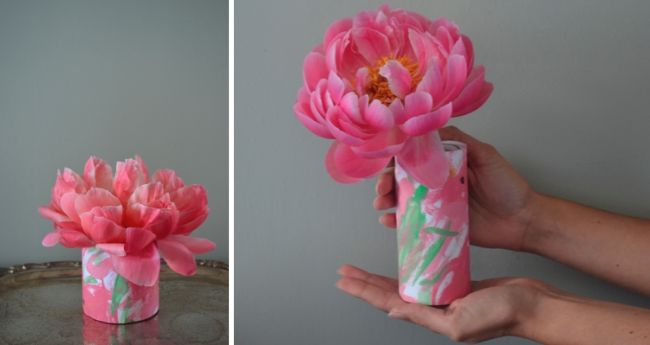 Material: Clean recycled glass jars, computer paper, acrylic paint, paintbrush, scissors, double stick tape
How to:
- Begin by painting with one color at a time – start from the center of the flower and work your way out (light swirls should do the trick)
- Continue with an outer layer for the flower in a slightly darker color
- Light swipes of green paint to make the leaves
- Finish with a few dots of yellow and black
- Allow the paper to dry thoroughly
- Trim the paper to the size of the glass
- Use double stick tape to wrap paper around the jar and secure in place
Fill the jars with flowers and enjoy!