Last year, when I had the opportunity to
meet and interview Jonathan Adler
in his SoHo studio I noticed that in his office he had paint by number art that had been modified in the most fantastic way (
see it here
). I searched to find rad paint by number sets for over a year and could only find landscapes, puppies and kittens…..no thanks. I came up with option B, which was to take an existing paint by number and do the reverse of what I had seen and loved.
I found a completed paint by number painting at the
Alameda Flea
and then went straight to my friend
Tiffany's pinterest board
which is full of inspirational quotes. I love the way that this turned out and could definitely see myself making more of these in the future!
Material: Completed paint by number art,
painter's tape
, white acrylic paint, paintbrush, alphabet stickers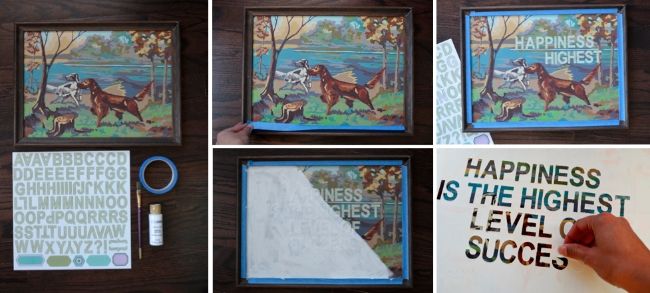 How To:
- Find the phrase you want to use
- Tape up the sides of the frame if the art is mounted like mine was
- Lay out your stickers – Tip: Start in the middle and work your way around
- Paint over the canvas – you may need to do multiple coats of paint
- Once the paint is dry, remove the stickers!